Mahoba a small district in Uttar Pradesh is famous for it's glorious history. It is known for its bravery. The stories Of Veer ALHA and UDAL defines its importance in Indian history.
Mahoba is located at 25.28°N 79.87°E. It has an average elevation of 214 metres (702 feet).Mahoba is famous for the 9th century granite Sun temple built in Pratihara style.Mahoba is also famous for its Paan (Betal leaf).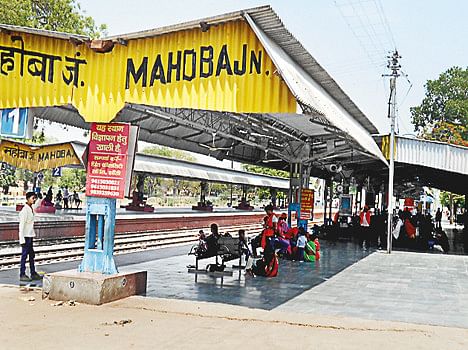 Mahoba Railway Station, Uttar Pradesh.
There are various Places which can create live glorious Moment of that previous time. Mahoba is a city located in the Indian state of Uttar Pradesh, in the Bundelkhand region. Mahoba is known for its closeness to Khajuraho, Laundi and other historic places like Kulpahar, Charkhari, Kalinjar, Orchha, and Jhansi. The name Mahoba is derived from Mahotsav Nagar, the city of great festivals. The Bardic tradition preserves three other names of the city: Kekaipur, Patanpur and Ratanpur. The existence of the sacred Ram-Kund and Seeta-Rasoi cave at the Gokhar hill here are said to be monumental to the visit of Rama who widely treated this hilly region while in 14-year exile at Chitrakoot.
Shiva Tempe, Mahoba, Uttar Pradesh.
Mahoba district is a part of Uttar Pradesh state of India and Mahoba town is the district headquarter. Mahoba district is a part of Chitrakoot Division. Mahoba District also known as Alha-Udal Nagari.
This district was carved out from the erstwhile Hamirpur district on 11 February 1995 by separating the erstwhile Mahoba tehsil from it. It is also known as Mahoutsav-Nagar, means city of festival. Mahoba is associated with Chandela kings who ruled in bundelkand between 9th to 12th centuries. Gandhiji visited Mahoba city in 21 November 1929. At that time Mahoba city was in Hamirpur district of Sanyukt Prant.
Mahoba, a town in the eponymous district of Bundelkhand.Kajli Mela is the main Fair of Mahoba and near by places. The Kajli Mela is associated with the Legend of great warriors Aalha and Udal. Aalha and Udal are the sons of the brave warrior Dakshraj, born in Disrapur village, 5-odd kilometres from Mahoba. In a twist of events befitting a fairytale, they are displaced from their home, their father murdered, and kept under the protection of Mahoba royalty, King Parmar. They are brought up as soldiers and warriors—it is fitting that those who are protected by Mahoba itself, choose to protect Mahoba.
As their prowess on the field gains strength, their fame increases too; it is soon considered a matter of fact that nobody can even dream of invading Mahoba while Aalha-Udal live there.And so it is that when the brothers are in Kannauj that Mahoba finds itself endangered. And by none other than Prithviraj Chauhan – the mighty emperor of Delhi , much-fabled himself. It is said, he had not dared make any plans of conquest for Mahoba until he got to know that the legendary Aalha-Udal were not around to protect its gates. Mahoba gains what Kannauj loses and Aalha-Udal return to fight the great Prithviraj. It is the month of saavan, Mahoba is drenched, abuzz with Kajli mela preparations, and it bodes well for the city and its residents who all celebrate Aalha-Udal's victory over Prithviraj Chauhan with great fanfare.
Beatle Farming, Mahoba, Uttar Pradesh.