Sambhal district is a district of Uttar Pradesh state of India. It was announced on 28 September 2011 as one of three new districts in the state. It was formerly named "Bhimnagar".
Sambhal Head Quarters is Bahjoi town. Sambhal is 158.6 kilometres (98.5 mi) from New Delhi and 355 KM from State capital Lucknow towards East.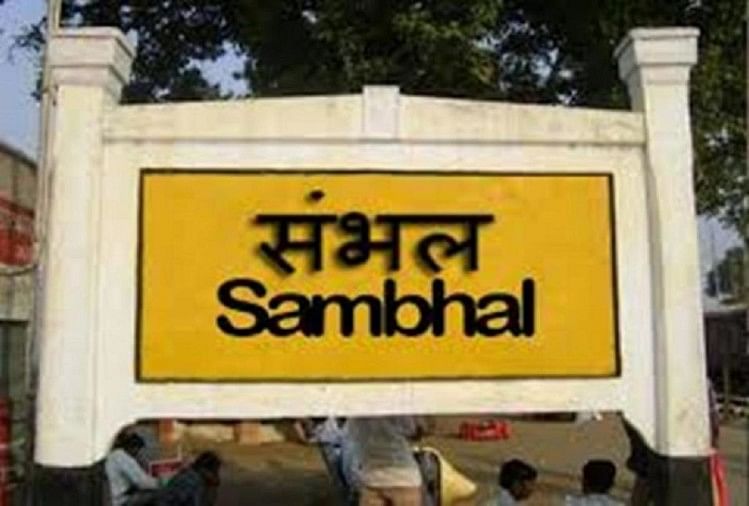 Sambhal Railway Station, Uttar Pradesh.
Sambhal district District of Uttar Pradesh Country India State Uttar Pradesh Tehsils: Sambhal, Chandausi, Gunnaur Government Lok Sabha constituencies Sambhal Assembly seats Sambhal, Asmoli, Chandausi, Gunnaur Demographics Literacy 57% Sex ratio 78%.
During the 12th century, Prithviraj Chauhan, Delhi's last Hindu ruler is said to have engaged in two fierce battles here which were both fought against Ghazi Sayyad Salar Masud, who was the nephew of the ruler of the Ghazni empire-Mahmud Ghazni. Chauhan gained victory over the latter in the first war and vice versa is said to have occurred in the second war. There nevertheless is no circumstantial evidence to prove the same and is widely regarded as a legend.
Kaila Devi temple has a long history. Mother Kaila has two temples in the country. First in Rajasthan and the other in the Bhanga area of ​​Sambhal. Here in the Navaratri it is said that the Goddess Darshan of the lion is coming. The banyan tree located in the temple premises is also of great significance. It is said that this banyan tree is seven hundred years old. Philosophy of Yaduvansh Kuldev's mother Kaaladevi on Monday is of particular importance.
Kaila Devi temple, Sambhal, Uttar Pradesh.
Qutub-ud-din Aibak, the first Muslim sultan of Delhi, seized Sambhal and included it under his empire. That was in the early 14th Century and subsequently, Firoz Shah Tughlaq, another sultan of Delhi , raided the town of Sambhal as one of the Hindu rulers from there was responsible for the killing of several of his men. He, therefore, administered a Muslim rule in Sambhal to try and vanquish all of the Hindu ruler's forces and enslave him for the rest of his life.