The city of Sultanpur (which gives its name to the district) lies in latitude 26 degree 15 minutes north and longitude 82 degree 05 minutes east on the right bank of Gomti about 61 km south of Faizabad, 42 km north of Pratapgarh and 138 km south-east of Lucknow. It is on the branch line of Lucknow-Jaunpur section of the Northern Railway (broad guage) passing through Sultanpur, Jafrabad and Jaunpur. Another branch line of trhe same railway connects it with Faizabad and Allahabad. Metalled road connects it Faizabad, Shahganj (district Jaunpur), Jaunpur, Pratapgarh, Raebareli and Lucknow. District road connects Sultanpur with Amethi.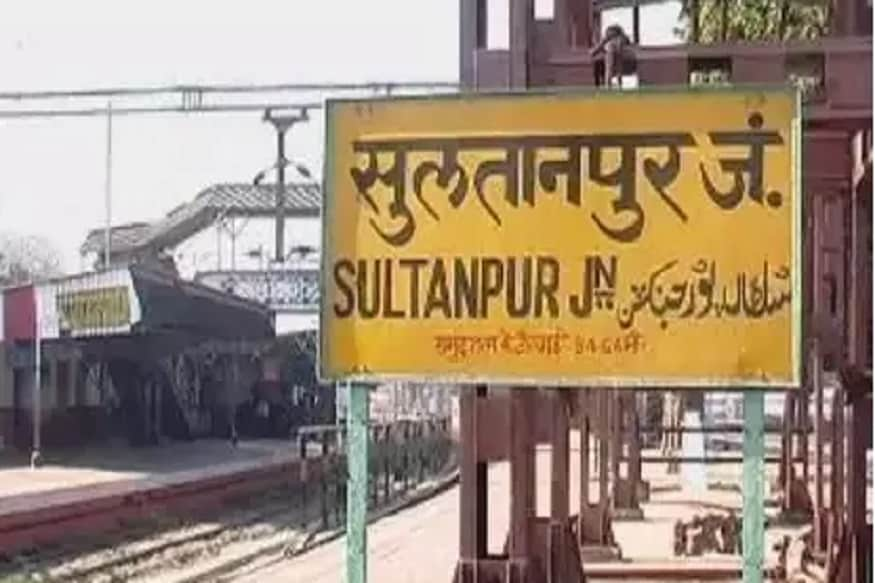 Sultanpur Railway Station, Uttar Pradesh.

The original town was situated on the left bank of the Gomti. It is said to have been founded by Kusa, son of Rama, and to have been named after him Kusapura or Kusabhavanpur. This ancient city has been identified by General Cunnigham with the Kusapur mentioned by Hiuentsang, the Chinese traveller. He states that there was in his time a dilapidated stupa of Ashoka and that Buddha taught here for six months. There are Buddhist remains still visible at Mahmoodpur , a village, 8 km distant to the north-west of Sultanpur. The town subsequently fell into the hands of Bhars, who retained it until it was taken from them by Musalmans in the 12th century. About seven hundred and fifty years ago, it is said, two brothers, Sayid Muhammad and Sayid Ala-ud-Din, horse dealer by profession, visited eastern Avadh and offered some horses for sale to Bhar Chieftains of Kusabhavanpur, who seized the horses and put the two brothers to death. This came to the ear of Ala-ud-Din Khilji, who would not allow such an outrage to pass unpunished. Gathering a mighty force, therefore, he set out for Kusabhavanpur and took revenge by killing most of the Bhars by strategem adopted after a long drawn seige. Kusabhavanpur was reduced to ashes and the town of Sultanpur, so called from the rank of the victor, rose upon its ruins. This town was finally raised to the ground during the military operations connected with the reoccupation of the province in consequence of the inhabitants having been concerned in the murder of British officers at the outbreak of the freedom struggle of 1857.
Before annexation a military station and cantonement were established on the right bank of the river in a village then known as Girghit but more commonly called by officials Sultanpur or Chhaoni Sarkar and by the rustic population Kampu or the Camp. The present town of the Sultanpur has been developed at this site. In this city there are two parks, one maintained by Soldiers', Sailers' and Airmen's board and other privately maintained known as Chimanlal Park. A library called Vinayak Mehta library, aided by Municipal Board is the only library in the city. It is run by the Vinayak Mehta Library Trust Association and contains over 10,000 books.
In Chowk there is a clock tower. On the bank of Gomti is Sitakund, where Sita bathed as she accompanied her husband (the Loard Rama) on his exile. Bathing fairs are held there in Chaitra and Kartika. In civil lines opposite the collectorate is a church known as Christ Church which was opened and consecrated on the 16th November 1869. Next to the church, on the south side, stands Victoria Manzil, built in commemoration of the first jubilee of Queen Victoria. Now its is called as Sunder Lal Memorial Hall and it houses the office of the Municipal Board. A stadium, named as Pant stadium has been built in the city in 1954-55.
Sultanpur district belongs to Avadh area of the state and the cultural heritage are accordingly still maintained by people.
In the villages of the district the man usually wears kurta (long and loose shirts) or a ganji (half shirt), a dhoti, an angauchha (scarf), and a turban or cap, and a woman saluka (loose blouse), dhotis/saris or a lehnga (long skirt) and an orhni (long scarf) to cover the head and the upper part of the body. The common dress of a male Muslim consists of a lungi or pyjama, a kurta or shirt, sometimes also a sherwani (long coat) and a cap or a turban and Muslim women wear pyjamas, kurtas and orhanis or dupattas (long scarf). Towns women ususally were saris and blouses and young girls salwars and pyjamas, kurtas and dupattas. Whereas the educated and more advanced townsmen dress in the western style, bushcoat or bush-shirts with trousers or slacks being the more popular dress.
The inhabitants of the district are generally vegetarian by habit and preferance, although the number of those who use meat, fish, eggs is considerable. Wheat, gram, rice, maze and pulses, together with milk, curd, ghee or vegetable oil, other edible oils, sugar or jaggery and common vegetables constitute the staple food of well-to-do section of population. Among villagers, jwar, bajra, barley, sattu (flour of parched gram and barley) and chabena (parched grain) are also common. The principal constituents of food are roti and a bowl of pulse with or without cooked vegetables. Tea (in towns) and smoking of bidi is common (in rural areas).
Jagdishpur is the main industrial area in the district with BHEL (Bharat Heavy Electricals Limited), Indo gulf (urea factory) and some leather factories established in that area. Apart from these the district also has Hindustan Aeronautics Limited (HAL) testing centre located in Korwa near Munshiganj and ACC cement factory in Gauriganj. The main line of the Oudh & Rohilkhand railway from Lucknow to Rae Bareli and Mogul Serai serves the south-western portion. Politically the district is famous for its Amethi constituency due to its association with Gandhi family.